Happy New Year!
We are very excited about our clients that have already chose to spend the upcoming seasons with us. Our goal is to have 90% of our clients retained by February 1st and we expect to hit that! Here's a quick update on the really exciting things that are happening around here!
As you know, having excellent people on our team is essential to providing great service. Over the winter, we've been hiring, training, and onboarding many local skilled craftsmen to join us. TJ, Donna and Jane have created an outstanding employee onboarding program that takes brand new hires from a 30-day apprenticeship up the career ladder to become an integral part of our organization.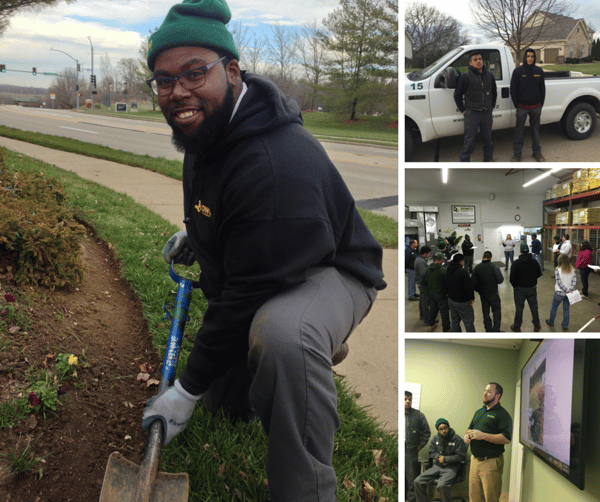 My friends often ask me what Dowco does in the winter time, especially if it doesn't snow. For our management team, the winter is an extremely important season where we can't be caught slacking off.
We organize our schedules and routes to make sure we complete all of our client's spring services in a way that maximizes our resources. We identified the number of people we need to have hired and trained in each position before March 1. Maurice made sure our 2016 financial budget was ready well before the first of the year to give us a clear pathway to the growth and success that we all desire.
How does all of this winter planning affect you?
I believe first and foremost you will see an elevated level of quality work performed on your site. Our employee training program has been refined, polished and enhanced to include a more in depth curriculum tailored to each individual. This will give our crew leaders the ability to grow their skills in each of our departments - lawn care, maintenance, irrigation, and design build.
Meanwhile, our account managers, Maggie and Matt, have been diligent about taking our gardening programs to the next level. You can expect exceptional results from our flower displays through our new 4 Seasons of Interest Program that we're rolling out soon!
If you haven't renewed your services with Dowco yet, it's easy to do on our website using this link: http://go.dowcoinc.com/renewal-2016
Thank you again for supporting our local, family owned business. Our loyal clients contribute to the success of our continually growing, year-round team.
To learn more about our career opportunities and the positions that we are hiring and interviewing for, click below.