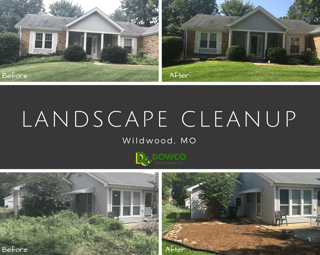 One of our long time, loyal clients asked us to help her at her mom's house. The current situation included a lot of overgrown plants, dead trees, and healthy weeds.
After Dowco performed this landscape cleanup in Wildwood, MO, the home looked completely different!
Landscape cleanup jobs do not have to be complicated or take multiple days. Frequently people will call upon Dowco to help them just get their yard back into shape.
Some of the lawn and landscaping tasks that we performed at this Wildwood, MO house included:
Clean the beds around the property free of weeds, leaves, and debris

Deadhead plants as needed.

Remove diseased rose in backyard

Rake beds smooth and prepare them properly for mulching

Remove 2 dead tress in the backyard

Stump grind the stumps remaining from the dead trees

Shape hollies and burning bushes in front

Trim the ivy off the home

Shear a formal hedge with yews in back

Trim overgrown trees and remove low limbs

Mulch all the beds with double ground mulch

All limbs, weeds, dead shrubs, & stump debris were hauled off site
All of this work was completed in one day and for less than $1,500.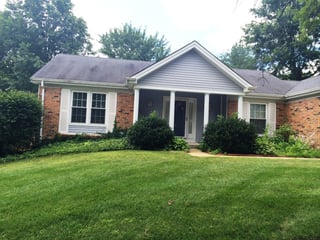 Before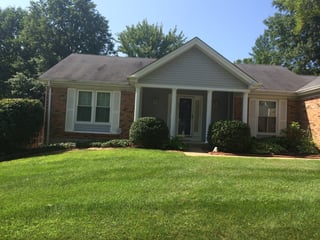 After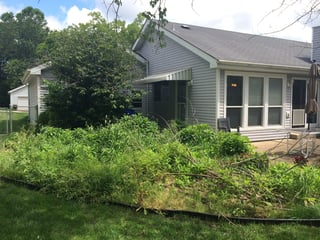 Before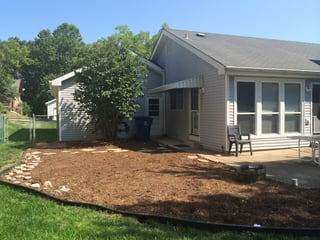 After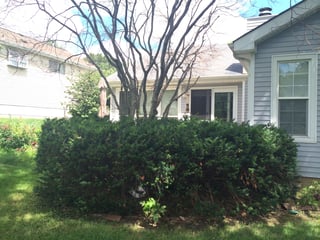 Before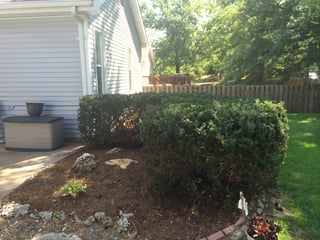 After
The best part is that this client is now on our bed maintenance program. This means her weeds will be treated on a monthly basis. As a bonus, it also includes all hardscape surfaces such as the cracks in the driveway and sidewalks.
The days of overgrown weeds are behind this Wildwood, MO homeowner and her landscape cleanup was a great success!
Dowco is the premier provider of basic landscape cleanup jobs like this one as well as robust design and construction projects! Contact us for more information.