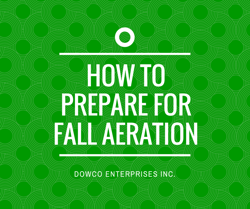 How to Prepare Your Lawn for its Big Day!
Now that you're set up for aeration with Dowco, it's time to prepare the grounds. Please review the following FREQUENTLY ASKED QUESTIONS.
What needs to be flagged?
Flag all irrigation heads and valve boxes.
Flag the invisible dog fence approximately every 3 feet.
Flag any other obstacles in the lawn (accent lights, sewers, etc)
Where can I get the flags?
Dowco has free flags available for pick up at our office! We'll also provide you with a complimentary bag of seed. And we'd love to meet you.
Home improvement stores also sell flags.
Is paint okay to use?
No. Unfortunately, paint is not easily visible to the crews when standing behind large equipment.
What will Dowco do with the flags upon completion?
Dowco will pick up the flags upon completion and leave them in mulch beds so that they do not rust on the driveway. Bundle and save them for next year!
Can Dowco flag for me?
Yes. Dowco can flag the system for you at a reduced labor rate.
What if I forget to flag?
Dowco will not aerate. We will contact you to reschedule on our makeup week in October.
When should I water?
Please water thoroughly the day before Dowco aerates. When the soil is moist, the tines are better able to penetrate and release longer plugs of soil.
You can water as soon after aerating as you'd like!
How soon can I mow?
You can mow as soon after aeration as you'd like.
If you are over-seeding at the same time, the grass may be mowed after the new seed has been watered in.
Do I need to be home?
Do you know what day I will be aerated?
Not yet. Our scheduling team is working on creating the tightest routes that we can to reduce driving time.
It's not too late to add overseeding at the same time as your aeration!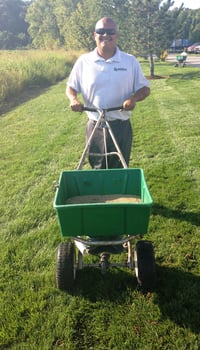 Overseeding is the key to building a thick, healthy lawn.
The Dowco Difference:
We use a Tall Fescue Blend of grass seed that works well in sun and shade. It provides great drought resistance and since it's a blend it's more tolerant to diseases.
We will overseed at a pretty heavy rate of 5 pounds of seed per thousand square feet.
We pay special attention to bare areas and trouble spots with additional seed and seed starter mulch.
We return within 30 days for a complimentary spot seeding to double check our work and re-touch areas that need extra love.
We guarantee your results or your money back!