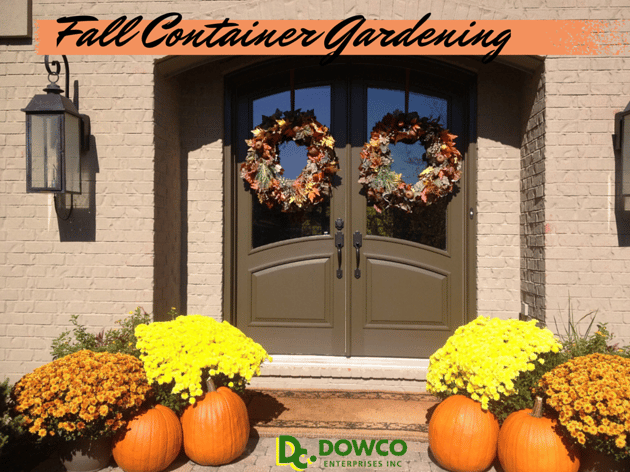 There are many reasons to choose containers in your garden, and here are just a few:
Container gardens are great when you have limited space to work with like in a condominium or an apartment.
They provide easy and simple access for individuals of all abilities.
If your ground soil is unsuitable, container gardening is a great choice and you can choose your own soil.
If you have an ever-changing taste or can't make up your mind, container gardens are easy to change!
Containers are a quick way to add height to a garden.
Containers add beauty to a deck, patio, or hardscape area that can't be easily landscaped.
Different types of container options include: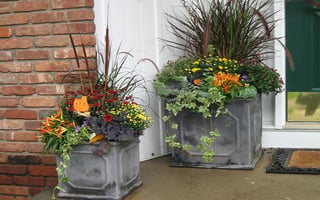 When you are selecting your St. Louis fall container that will hold your plants, there are a few things to keep in mind. Planning in advance will save you a lot of trouble in the end.
Plastic – we recommend getting the heavy duty kind or they may crack
Clay – if your clay pots are large and heavy, invest in a dolly to move them around
Ceramic – these come in great glazed color combinations and can be left outside
Wood – this is a great choice for window box options
Fiberglass – this material is more heavy duty than plastic
Metal – some types may rust, and make sure that you have a good drainage system in place
Stone/Concrete – think about how often it will be moved. If it's heavy, you probably want to
leave it stationary.
Traditional – if you wait until the end of the season, you can get much better deals on containers
Repurposed – we love the option of repurposed or nontraditional containers. Pinterest has some great ideas including: boots, wine barrel, wheelbarrow, rocking chairs, toy dump truck, wagon, wood crate, bird bath, bikes, paint cans, and old tires.
Adding fresh potting soil is a very important start to creating a long lasting St. Louis fall container garden display.
Make sure to replace at least half of the soil from your summer containers because the beneficial nutrients have already been absorbed. Dowco recommends lightweight soil (not like the clay in our St. Louis soils).
Good drainage is an absolute must!
Ensure that the containers that you use have holes in the bottom, or you can drill your own. Blocking the drainage holes from the soil can be done using a screen or landscape fabric. Most plant roots grow about 8-10 inches down so anything underneath that can be filled with "filler". Some options include rocks, broken clay pots, packing peanuts, black plastic trays from the plants, or water bottles.
Remember that St. Louis fall container gardening is different than spring because you want to purchase plants that are already big. In the spring it's ok to allow room for them to grow, but in the fall you want to fill out your containers as the growth season is shorter.
The fun part! Choosing your plants
There are several things to consider before you head to the nursery to pick out your container garden plants.
Location – Where you put your pot is critical. Look for plants that do well in the sun or the shade that you have.
Colors – think about the backdrop of your house or patio. Keep in mind that the leaves will drop in the fall, so you'll lose the green foliage in the background.
Viewing – will you view the plants from all angles or just one side? This will determine how you want to see the display
Other creative opportunities include desired height, playing with different textures, and experimenting with leaf shapes. The leaf size and texture choices are limitless including spikey, variegated, flat, course, ruffled, smooth, and fine.
Common St. Louis Fall Container Garden Options
Sweet potato vine
Purple heart
Pansy
Snapdragon
Coleus
Aster
Dianthus
Lobelia
Viola
Mums
Cigar flower
Grasses
Coreopsis
Coral bells
Ajuga
Black eyed Susan
Creeping Jenny
Weeping yucca
Helianthus
Flax lilies
Ginger lilies
African daisies
Flowering maples
Hebes
Lavender cottons
Nemesias
Ornamental cabbage & kale
Pigsqueaks
Stonecrops
When choosing perennials for the fall in St. Louis choose plants that are 2 zones cooler (lower), so in St. Louis that would be at least a zone 4 hardiness so it can survive the winter. If that isn't an option, plant the perennial in the ground or move it inside until spring.
Adding Extras
There are many other extra items that aren't flowers that you can add to your St. Louis fall container! Consider using pumpkins, gourds, hay bales, scarecrows, etc.
Seem like a lot of work? Dowco can help! We would be happy to assist you in creating a fabulous St. Louis Fall Container Garden.
Dowco is the premier provider of lawn care and landscape maintenance services. We are committed to improving the quality of your life so that you can spend time doing the things you want to do! Our full service menu includes weekly maintenance of your property, plant health visits, and modern site enhancements.
(636) 532-9192