Lawn mowing in St. Louis begins in late March or early April and ends after the leaves fall and before the winter hits in St. Louis.

Here are 4 frequently asked questions about St. Louis lawn mowing.
1. What should I do with lawn clippings? Should I bag lawn clippings?
Many people wonder if grass clippings are beneficial or harmful for their turf. Dowco returns the grass clippings to the lawn instead of bagging them because they are a valuable source of fertilizer for your grass plant. While they decompose on your lawn they provide nitrogen, potassium and phosphorus.
2. If I return grass clippings to the lawn will it contribute to thatch and weed problems?
The clippings are composed of primarily water and they decompose more quickly than the rest of the grass plant. Before you start mowing, it is important to know if you have a thatch problem to begin with. Fall aeration or de-thatching should be done with a thatch layer over ½ inch thick. Research at MU and other universities indicates that clippings do not contribute to thatch buildup on any cool- or warm-season grasses, including Zoysia.
3. How often should I cut my grass?
There is a point where too many grass clippings can become harmful for your lawn, which is why it is important to mow regularly. For St. Louis, we recommend mowing every 7-10 days. There are a lot of variables that can change the mowing recommendations. Whether or not you have an irrigation system, recent precipitation or lack of, and fertilizers are factors.
4. How much of the grass plant should be cut during lawn mowing?
Dowco prefers to mow at a relatively high setting so that no more than 1/3 of the grass plant is removed during lawn mowing. The best mow height for Fescue turf is 2 ½ - 3 ½ inches.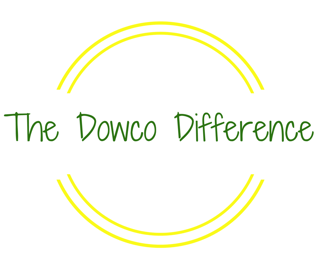 Dowco Differences to expect when Dowco manages your regularly scheduled St. Louis lawn mowing:
Courtesy: our teams bring up the newspaper, move your empty trash cans to the garage and pickup dog toys before starting.
Appearance: grooming the turf to create a clean, uniform appearance is our goal. Our crews take extra time to make sure your turf looks the best in the neighborhood avoiding wet spots.
Detail: edging lawn areas, blowing out clumps of grass and blowing off all walks, drives and patios, Dowco crews provide a level of detail unmatched in the industry.
Be sure to compliment your crew when you see the Dowco Difference!
When Dowco manages the 3 main components of your lawn health (lawn mowing, irrigation maintenance, and fertilization and weed control) you can be sure that you'll have a thick, lush turf that your neighbors will envy!
Ready for the best? Request a free quote and lawn analysis today.