Although the sun is shining, we are considering this another rain day. The machines we use would be too heavy and sink into saturated lawns. We plan to put a full court press on mowing and lawn care and we will be working this weekend.
Here at Dowco, we are passionate about creating beautiful, green lawns for St. Louis. For many years, the landscape industry has celebrated National Lawn Care Month in April. Now that spring is beginning, there is no better time to get started on developing the perfect lawn this season!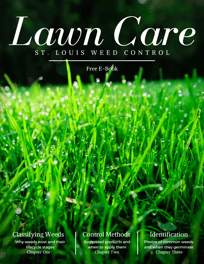 In celebration of National Lawn Care Month, check out our Lawn Care and Weed Control E-book.
Find out how to classify weeds, control them with pre-emergent or post-emergent herbicides, and identify 9 common weeds in the Midwest region with this free e-book influenced by our horticulturists on staff.
If you have questions about your lawn, give us a call! With licensed applicators and horticulturists on staff, we can help. 636-532-9192