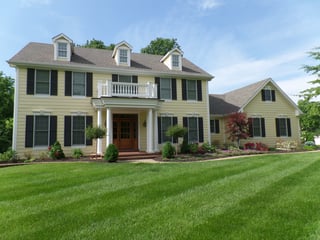 This time of year, neighbors start to notice and comment on beautiful landscapes that look manicured & tidy even through the heat of the summer. We want that neighbor to be you!
You could spend your weekends pulling weeds this summer, or you can relax and enjoy your outdoor space, leaving the dirty work to us. Depending on you and your lifestyle, you may prefer regularly scheduled visits or simply call us as needed - and we have options for you!
Summer Spruce Up - You're in Charge! *MOST POPULAR*
A summer spruce up by Dowco will freshen up your beds before a party or event at your home. Weeds will be removed & edges will be freshened according to your preference. We can also prune shrubs at the same time.
We will schedule for a time that you're home and you'll be the property manager on site. You can keep a 2-man crew for as long as you'd like with a 3 man hour minimum.
Pricing starts at $150 and can be billed at time and material or with a pre-determined quote. Click here to request more info.
Flower Plantings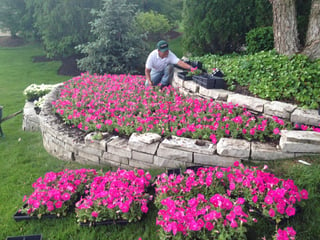 When you need some quick color to spruce up your yard before an event, we can help! Some popular summer choices include Zinna, Begonia, Geraniums, Vinca, Ageratum, Sweet Potato Vine, Dusty Miller, Caladium, Petunia, Lantana, and the ever popular Sunpatiens.
Click here to request our price list.
Mid-Summer Bed Cultivation
Over time, the UV rays from the sun will bleach the color out of your mulch. A bed cultivation brings the darker mulch from the bottom and rotates it to the top to refresh your beds during the summer. Bed cultivation extends the life of your mulch that was applied months before without the cost of fresh mulch.
The benefits don't stop just with the aesthetic values. A bed cultivation will reduce water runoff and allow nutrients to get to the root zone of your plants. The aerating aspect is beneficial in letting the roots have more space to spread out and grow along with keeping the soil at the correct temperature.
Pricing starts at $150. Click here to request more info.
Tree Trimming and Shrub Pruning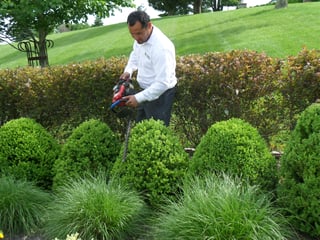 When Dowco trims we pay attention to the details including removing the suckers growing on trees that deplete the nutrients from the desirable growth. Our outdoor living professionals view the landscaping as a whole. We will start with the largest shrub and lightly touch smaller shrubs as needed to allow them to catch up to create symmetry in the hedge. We will pay attention to your desires. Some clients enjoy tightly trimmed shrubs while others prefer them to have more texture. Just let us know!
Pricing starts at $165. Click here to request more info.
Monthly Bed Maintenance Program
Our monthly treatments minimize weeds in your beds and garden areas. Trained licensed applicators will visit your property monthly to control the germination of weeds using pre and post emergents. As an extra bonus, our program includes treatment of weeds in parking lots, patios, decks, around trees, along curbs, and in sidewalk cracks.
Pricing starts at $49/month. Click here to request more info.
Free Summer Events in St. Louis!




C

lick any of the green links to learn more.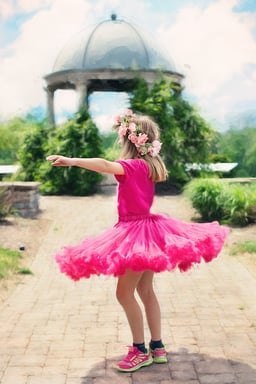 Laughing Matters at the St. Louis Public Library - enjoy 1 hour of wacky juggling, mimes and silliness on 6/16.
Sports Science at the St. Louis County Library - discover the science behind sports through experiments and activities exploring how our bodies work on 6/16.
Can You Dig This Outdoor Movie Night - Bring a lawn chair and blanket, enjoy free popcorn and watch Can You Dig This, a documentary that follows the inspirational journeys of four lunlikely gardeners as they discover what happens when they put their hands in soil on 6/18.
Enjoy Summer Movies in St. Louis:
Ballpark Village has free movie nights on select Mondays throughout the summer.
Beyond Housing 24:1 Cinema has $1 movies on Tuesday and Wednesday mornings in June and July
St. Charles Community College has free movie nights on select Fridays throughout the summer
Wehrenberg Theatres has $1 movies on Wednesday and Thursday mornings throughout the summer
Ongoing Free Summer Events in St. Louis:
Summer Concert Series at Faust Park - Bring lawn seating and the whole family to enjoy a night of live music under the stars during 6/7 - 8/16.
Shakespeare Festival St. Louis- A Midsummer Night's Dream - pack a picnic and enjoy this exciting production of one of Shakespeare's classic comedies during 6/3 - 6/26.