Have you ever wondered why some people spend so much time creating a shovel edge and then mulching around the trees in their landscape?
There are 4 main benefits of mulching around trees. Not only is it aesthetically appealing, but mulch also helps serves as an investment in your trees' protection.
1. Make caring for your yard easier.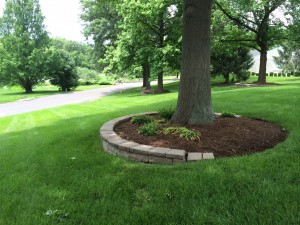 Unprotected trees can be a nuisance when caring for your turf. Mowers and string trimmers are able to nick and damage trees no matter how much you or your lawn maintenance company avoids them.
Strategically mulching rings around your tree will make any lawn care process easier for you and your lawn maintenance crew.
2. Keep your trees healthy.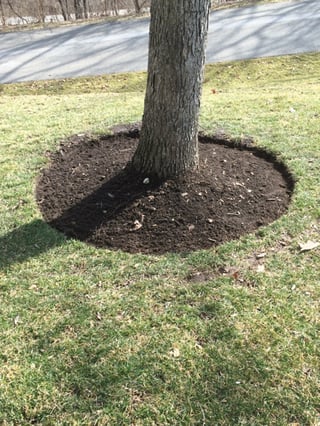 Mulch is the best thing you can do for your trees, if done correctly. Mulch rings protect the tree by conserving moisture, insulating the roots, and keeping them warmer in the winter and cooler in the summer.
Most importantly, mulching around trees will also provide bare trunks and surface roots defense from mowers and string trimmers. Constant pestering by the lawn mowing equipment can damage the roots and trunk of your trees.
When mulching around trees be careful to avoid piling the mulch to deeply or creating mulch volcanoes which can do more harm than good!
3. Grab attention for your landscaping.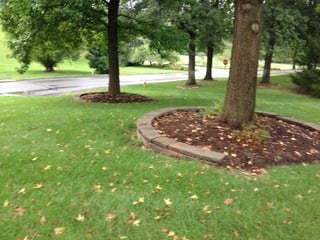 Mulch rings with a crisp edge give your yard a clean manicured look. Your neighbors will be envious of your fresh mulch and edge around the trees year after year.
Mulch rings also provide opportunity for additional planting space. Many of our clients use shade-loving perennials underneath their wide oak trees. It's a beautiful way to show off your landscaping.
4. Eliminate trouble spots and hard to grow grass areas.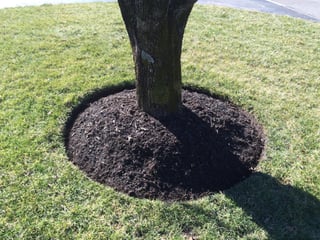 Is the thin grass around your trees a concern to you? It can be difficult to grow grass around trees because of the shade and the soil content. Mulch rings will eliminate this concern immediately around the tree.
It will also reduce the amount of weeds around the tree. A bed maintenance program or weed pulling is still recommended as weeds still find their way to the surface of the mulch.
If you think it is time to put mulch rings around your trees, let us know and we can help!
Dowco is the premier provider of lawn care and landscape maintenance services. We are committed to improving the quality of your life so that you can spend time doing the things you want to do! Our full service menu includes weekly maintenance of your property, plant health visits, and modern site enhancements.