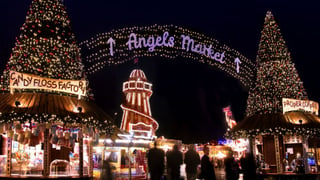 During this time of year, the amount of work your lawn and landscape needs is reduced and we all have more free time to spend with our family and friends! Here's a quick list of a few winter holiday events around St. Louis that you can participate in.
Kid Friendly
Polar Express Pajama Time Story in Chesterfield, MO
Come in your PJs and join us for a magical evening as we host our annual Polar Express Storytime. Coloring and activities to follow, including writing a Dear Santa letter!
15th Annual Maplewood Christmas Tree Walk
The festivities begin at 6:00 p. m. in Citizens National Bank Park with caroling, the grand lighting of the tree, and Santa Claus's arrival. Enjoy carriage rides and hot chocolate as you stroll through historic Maplewood, which will be brimming with holiday cheer. Visit our merchants and take advantage of their holiday shopping specials. Relax and refuel at one of our popular dining destinations or coffee shops that are featuring live entertainment.
Missouri Botanical Garden Glow
Garden Glow features a million lights surrounding visitors with a spectacle of unique installations amid some of the Garden's most iconic locations. Enjoy interactive photo opportunities, traditional holiday music and festivities, delicious food and drinks and more as the Garden is transformed around you into a winter wonderland.
Winter Wonderland at Tilles Park
Winter Wonderland is open for vehicular traffic and carriage rides Sunday through Friday from 5:30pm – 9:30pm.
Pizza with Santa in Eureka, MO
Enjoy pizza with Santa Claus, create some fabulous holiday crafts and sit on Santa's lap. Bring your camera, photographs will not be provided. Registration is required and must be completed at The Timbers of Eureka.
Meet Santa's Reindeer in St. Charles, MO
You know Dasher and Dancer and Prancer and Vixen - now get the chance to meet some of their antlered brethren up close. The Reindeer Flight Instructor has brought some of his special friends dire t from the North Pole as a special surprise for Christmas Traditions visitors. Hear funny stories about his reindeer pals and get pictures with these beautiful animals. This event is FREE!
For Adults
12 Bars of Charity was founded in the winter of 2012. The idea of creating a fun pub crawl benefiting local charities in the Saint Louis, Missouri area couldn't be ignored. One80 Entertainment kicked off the event in the heart of St. Louis – Clayton, MO. With a buzz in the air, and people looking to contribute to local charities, there were expectations of a few hundred people attending. With great surprise, 12 Bars of Charity ended up exceeding their goal hitting a total of 1,927 crawlers! From this moment forward, event organizers put an emphasis on growing the event. The event has expanded into Tampa, Denver, Baltimore, Austin, and Dallas and are looking to keep helping charities around the United States.
Chesterfield Chamber of Commerce Winter Festival
The Chesterfield Chamber of Commerce's Winter Festival is the perfect place to go to get you in the mood for all that holiday shopping and planning that lies ahead. Enjoy a magical time with Santa and his elves, carolers, carriage rides, hot chocolate, and much much more! For sponsorship and auction donation opportunities contact the Chamber Office.
World's Largest Ugly Christmas Sweater Party
The Diamond Family Presents the 2nd Annual World's Largest Ugly Christmas Sweater Party at Ballpark Village on Saturday, December 10th at 7pm to midnight. We have teamed up with UglySweaterStore.com, The Event Co., IHeart Radio, Barefoot Wines, Bud Light, Jack Daniel's Whiskey, Red Bull, Mr. Pickles Photo-booths, Dave And Busters, 2 Chics and a Photo-booth and Ballpark Village to attempt to break the Guinness World Record for the World's Largest Ugly Christmas Sweater Party. We will attempt to break and set the new Guinness World Record for that has been previously set at 3,400 people at KU. While attempting to break the record we want to see how many canned food goods we can donate to Operation Food Search. OFS is the largest distributor of free food in the St. Louis region helping to feed the less fortunate.
A holiday mash-up for the entire family, The Hip Hop Nutcracker, a contemporary re-imagination of Tchaikovsky's timeless music, sets out on its second national tour following the success of last year's sold-out inaugural tour across the United States and Russia. The Hip Hop Nutcracker is an evening-length production performed by a supercharged cast of a dozen all-star dancers, DJ and violinist. Through the spells cast by the mysterious Drosselmeyer, Maria-Clara and her Nutcracker prince, travel back in time to the moment when her parents first meet in a nightclub. Digital scenery transforms E.T.A. Hoffmann's story of a palace of sugarplums into a romance set in 1980s Brooklyn. The dance work celebrates love, community and the magic of New Year's Eve.
SantaCon is a mass gathering of people dressed in Santa suits parading around in bars in 359 cities throughout the world! This is the 6th year it will take place in the fabulous city of St. Louis. Bring some cash to purchase tickets for a 50/50 for Stray Rescue of St. Louis and/or Young Friends of Kids with Cancer!
Outdoors
Castlewood State Park 8-Hour Adventure Race
An adventure race is a multi-sport, off-road, team event with no marked course. Teams must use a map and compass to navigate their way through a series of checkpoints on mountain bikes, in canoes, and or on foot to reach the finish line. Expect to cover 5-10 miles paddling, 10-20 miles biking, and 5-10 miles on foot.
Join the movement that's taken over the racing world. Hot Chocolate 15k/5k is headed to St. Louis on December 11th, 2016! Start and finish at Soldier's Memorial amongst St. Louis' biggest chocolate aficionados.
Charitable
Hollyberry has decided to partner with Big Brothers Big Sisters of Missouri for the annual Gift that Gives Back corporate gift program.15% of each custom Gift Box filled with homemade sweets is given directly to BBBSEMO! Included in the Gift Box is a postcard that increases awareness of the BBBS program and explains how the gift is positively impacting the community. The custom Gift Boxes are $49.95.
Deck the Streets in St. Charles, MO
10am | Free Showing of Elf at AMC
-2 canned food items per admission
11:30am - 2pm | Selfies with Elfies
- Get your picture taken with Santa's Elves FREE at AMC lobby for canned food or cash donation
10am - 4pm | Canned Food Drive
- Donate canned goods at AMC lobby and receive coupons for all your Streets' favorites
Also enjoy the sounds of Lindenwood Jazz Band and choral group and keep in the holiday spirit with a steaming cup of hot chocolate at the Residences Clubhouse! All donations benefit OASIS Food Pantry of St. Charles
Bark Happy Ugly Holiday Sweater Pawty benefiting Stray Rescue St. Louis
Bundle up in your holiday sweaters and join us at Bentley's Pet Stuff for an Ugly Holiday Sweater Pup Pawty to benefit the Stray Rescue of St. Louis! We'll have giveaways, free treats for pups, Holiday photos taken with the Grinch, and a pup pawprint made ornaments! Dogs (and humans) that show up in an ugly sweater get an extra raffle ticket! Plus even free BBQ Samplings for humans!!
Hopefully you get out to enjoy all that St. Louis has to offer this winter! Don't forget to renew your 2017 services with Dowco.