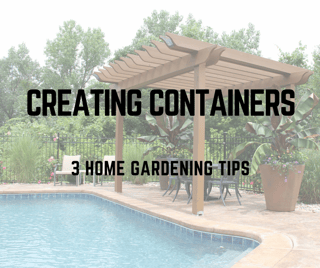 I love flowers, and nothing is more welcoming than a beautiful flower display at your entryway.
Here are some tips to guarantee the best display on the block!
Tip #1: Start fresh!
Check your container to make sure the drain holes are unobstructed. Remove and replace one-third to one-half of last year's soil with fresh mix.
Use potting soil, not topsoil. Potting soil has a blend of materials to assist with moisture retention while keeping air available to the roots.
Check your potting soil, and if fertilizer isn't mixed in, now is the perfect time to add slow release fertilizer like Osmocote to your mix.
Tip #2: Get creative!
The classic container recipe consists of a "Thriller", a "Filler", and a "Spiller".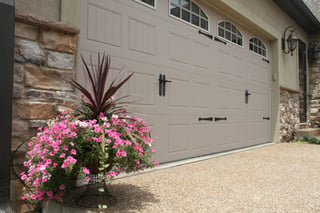 The "Thriller" is typically a tall eye-catcher in the middle. We love purple fountain grass and red cordyline and juncus grass. The "Filler" comes next and makes up the bulk of the plant material in the pot. We like to use proven performers like wave petunia, calibrachoa, and lantana. The "Spiller" is the final touch, an accent plant that adds contrast and draws the eye down.
Some of our favorites are sweet potato vine and dichondra Silver Falls. Select plants for sun or shade based on your location, and add your own twist to this tried and true recipe by playing with bold colors and textures.
Tip #3: Focus on maintenance!
Water regularly to maintain moisture, and we recommend fertilizing every two weeks with a water-soluble fertilizer and prepare for admiration from your neighbors and visitors.
Schedule your complimentary site visit today with Dowco to discuss your St. Louis Home Landscaping and let our horticulturists work with you to make your vision a reality!
Here are some other articles that you may like:
4 Steps to a Quick & Easy Spring Container Garden
Colorful Winter Container Plantings
Fall Container Gardening Ideas
3 Simple Steps to Prepare Your Containers for Winter Weather