Many people ask what we do during the colder months and as much as we'd love to hibernate, we never slow down!
Here's our team this morning with our traditional year-end hoody hand out! (Can you spot Wally?)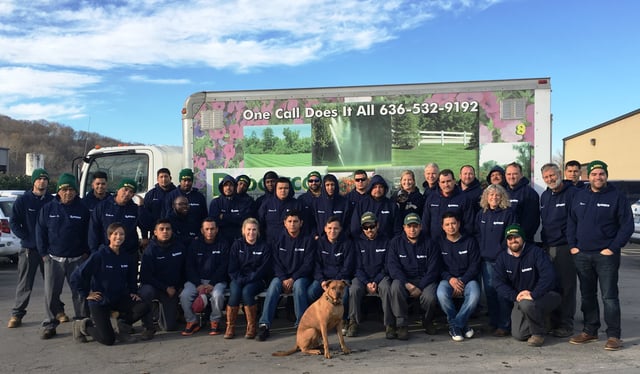 We'll continue our seasonal services:
Due to a couple wet days this week, we'll be MOWING for a few clients into December to finish out the season.
In Chesterfield, we provide snow plowing and de-icing services as needed.

We apply lime as part of fertilization and weed control step #7 to balance the pH in the soil and prepare lawns for next season.

We're planting bulbs, blowing leaves, cleaning beds, mulching, and deep root feeding trees & shrubs.
We put together a list of a few winter and holiday events around St. Louis that you may be interested in participating in. If it's listed here, you can bet that you'll see one of us there!
http://blog.dowcoinc.com/winter-holiday-events-around-st.-louis
All of our 2017 renewals were sent out to our clients Sept-Nov, and we're waiting to hear from you! Click here to approve your 2017 renewal or let us know if you need another copy sent to you.
We appreciate you!