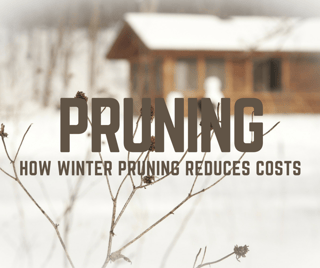 Here in St. Louis, we are used to trimming and pruning our shrubs regularly during the growing season.
If we don't, common plantings like Boxwoods, Burning Bush, Viburnum and Spirea get large and out of control!
But, did you know that winter shrub pruning can reduce your trimming costs during the season?
Traditional Trimming and Pruning
Traditional trimming and pruning of trees and shrubs is good for reducing the size or modifying the shape of a plant.
During the season when Boxwoods are trimmed with the idea of managing their shape and height, it encourages new growth to develop on the ends that were cut from. These terminal branches produce denser growth, similar to how your hair grows back thicker after shaving.
Over time, the denser growth can actually decrease the amount of sunlight that can reach the interior of the Boxwood. Our horticulturists call this area, the "dead zone" because the leaves inside are brown and crispy.
Winter Shrub Pruning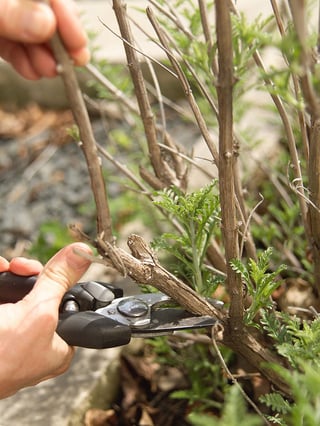 The goal of winter pruning is to rejuvenate the plant by extending its longevity and enhancing its natural beauty.
As our St. Louis plants go into dormancy, they can be selectively pruned to help the sunlight reach the core of the plant without encouraging more terminal growth.
If you perform this service regularly, winter shrub pruning can significantly reduce the dead zone. When the entire plant is performing at it's best you can really increase the life expectancy!
Reducing Costs
As plant lovers, we strongly believe that removing shrubs should only be done when there are no other options. In St. Louis this can happen more often than we'd like to see because of poor design or proper horticultural practices at the right time were missed.
Winter shrub pruning gives you the opportunity to:
Remove crossing or rubbing branches

Remove dead wood

Invite the plant to produce vigorous spring growth

Easily able to see what needs to be pruned with less (or no) foliage

Enhance the natural beauty

Thin out the plant

Look for signs of disease
One of the other perks of winter pruning is that plant material around/underneath it is dormant and the ground is frozen. This provides easier accessibility to the treese & shrubs, as well as, reduces the risk of damage that would be done if there were perennials blooming and soft ground present.
When to Call a Professional
Just like a bad haircut, typically a bad winter shrub pruning job will grow out over time. However, there are times when it's necessary to call a professional.
It your job requires a pole pruner and you don't have one, please don't risk your life on a ladder! It's not worth it and a local St. Louis lawn and landscaping company has the right equipment on hand to get the job done safely.
We have a rule of thumb here at Dowco that if you don't know what a plant is, don't prune it. This applies to homeowners as well! There are shrubs that you don't want to prune in the winter because they're getting ready to bloom in the spring. Lilacs, forsythia, Gardenia, Hydrangeas, to name a few, are not good candidates for winter pruning.
Dowco is the premier provider of lawn care and landscape maintenance services. We are committed to improving the quality of your life so that you can spend time doing the things you want to do! Our full service menu includes weekly maintenance of your property, plant health visits, and modern site enhancements.
Click the links below to learn more about trimming and pruning services:
The Importance of Trimming & Pruning