February 2nd marks the official mid-point of winter and we're looking for signs of the upcoming spring.
Our bed cleanups and shovel edging are underway. While we're not spreading mulch yet, we're taking the time to prepare the beds so when the weather warms up your property stands out!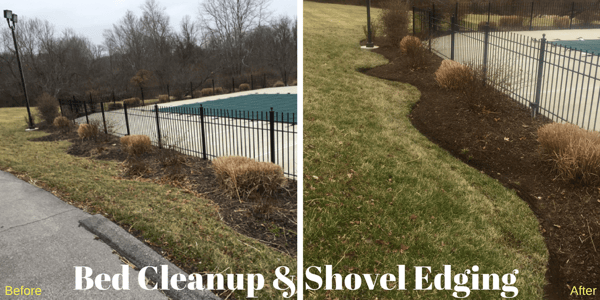 Consider Before Spring:
Sticks, limbs, leaves and debris should be removed from your lawn before our crews arrive to fertilize or mow.

Begin designing colorful annual flower displays to be enjoyed this spring and summer. Our horticulturists can help with custom grown annuals.
Reduce the size of overgrown shrubs such as Roses and Burning Bushes in a winter trim prune.

Look for early bulb sprouts as a sign of spring. There's still time to plant bulbs as well.

When soil temperatures are consistently above 50 degrees for a week or so, it's time to apply crabgrass pre-emergents on your lawn. Our fertilization and weed control clients are covered!

When the ground isn't frozen, it's time to start cleaning, tilling and working in soil amendments. Just be careful on frozen grass and don't put heavy equipment on it.

Ensure that your houseplants are not touching cold windows and continue to water regularly (water your outdoor plants too!).

Test out your power tools by turning them on for a bit to make sure you don't need any repairs before the busy spring rush.

Refill your bird feeders.
While you're thinking of us, don't keep us a secret! We're able to help your neighbors, friends and family with their St. Louis lawn and landscape needs and we will send you a bonus as a thank you!
Our team is also hiring skilled landscapers to work outdoors year round!