1. Decorate your outdoor space by adding fall annuals & decorations.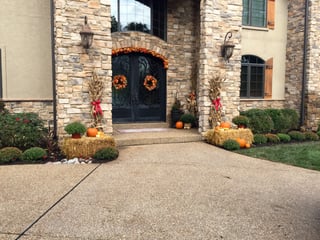 Common plants that will dress up your front door, patio, or balcony are Strawflower, Mums, & Pansies.
Our full list has 29 plant options that thrive in St. Louis and are easy to incorporate into your outdoor space as well as container options.
See fall container gardening ideas.
2. Winterize your irrigation system, store your hoses and shut off exterior water.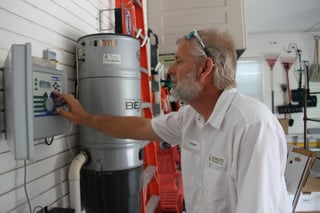 Dowco recommends having your irrigation system winterized before the overnight temperatures get below 32° and we get a hard freeze.
It's a tricky balance so be mindful of watering new seeds and annuals, but also the need to shut down before the first hard freeze. Freeze damage to your system can cause pipes to burst and heads & valves to break.
Choose a time that works for you to be home using our online irrigation scheduler.
3. Continue to maintain your lawn.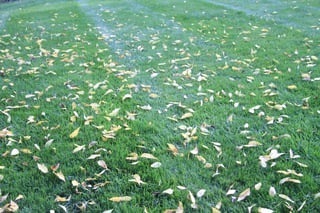 Grass should still be cut while it's growing. Keep your lawn clear of leaves by blowing them into the woods or having them vacuumed.
Fill out your leaf questionnaire.
It's not too late to aerate and overseed your lawn if you haven't already done so. Schedule online.
After spreading grass seed, do not use any weed control or rake your leaves until the seedlings are well established.
4. Help your gardening beds get ready for colder weather.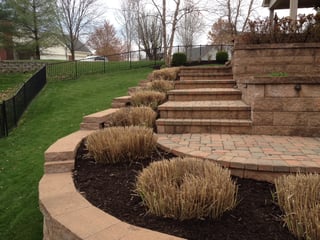 Apply an extra layer of mulch around plants that are sensitive to cold weather or young. This will keep them insulated throughout the winter. Re-establish the shovel edge around the beds. The turf side should be a 90° angle and a more rounded 45° bed angle.
Keep the leaves & weeds cleaned out of the beds and prepare to cut back the ornamental grasses. Typically we cut back the large ornamental grasses in the fall and leave the smaller ones to add texture to the landscape during the bleak, winter months.
5. Secure your snow & ice management company, review & evaluate.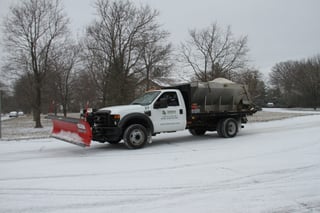 Don't wait until the first snow fall to get on a schedule. We have limited availabilty! Request a quote from us, or check on Craig's List.
As you are dabbling in your yard, remember to review and evaluate what worked in your landscaping this year. Jot down some notes about the performance of your spring annuals including their location and size. Take lots of photos so when spring comes you have something to reflect on.
We'd love the opportunity to show you what we're all about and help you check a few of these items off your list. If you're ready to learn more about how your property can benefit from Dowco, click here to request a quote or give us a call at (636) 532-9192.